REVIEW LISTS Publicity Assistant 2000 allows you to create and store three different types of project lists: Review Lists, Promotional Tours and Special Projects. A review list/media list is a place to store media contacts you have targeted for a particular project. You can also indicate why a contact has been included, if and when materials were sent to that contact, and resulting reviews.

The Review List project allows you to track results by project or by reviewer. You can create mailing labels, printouts, cross-reference checklists, mail merges, and, depending on your PA2000 configuration, even e-mail mailings and blast faxes. The figure below shows the front page of the Review List section of Publicity Assistant 2000. On the left is a column of projects and on the right the corresponding information.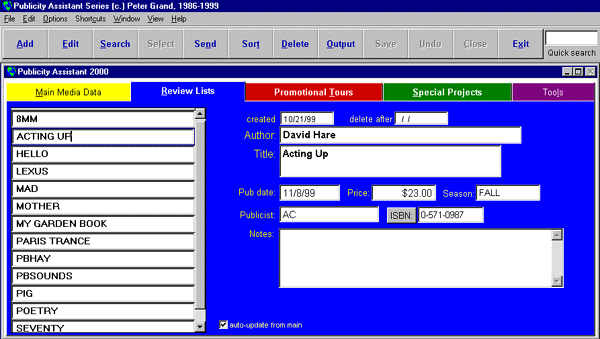 Each Review List has it's own window, where all the information about the project is stored.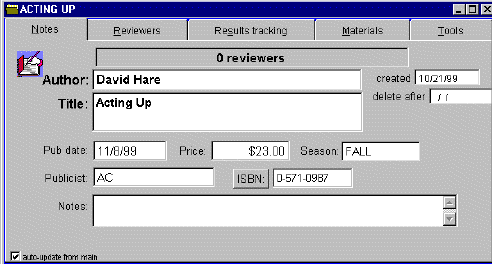 The window consists of 5 tabs.
Notes: Contains optional information about the book or other item being publicized, as well as how many reviewers are contained in the list.
Reviewers: Contains all the media contacts you have selected to work with on this project.
Results Tracking: Allows you to track the results of each reviewer, such as the date of publication, the quality of the review, etc.
Materials: This tab is reserved for a future enhancement to Publicity Assistant 2000. If you select it, you will see a blank screen.
Tools: A number of useful tools can be found under this tab. They include:
A duplicate checker, which alerts you if duplicate contacts are in your list and provides you easy tools for eliminating them.
A contact Synchronizer, which compares the contact information in your list with that of the Main Media Database, and updates your list with changes.
An export tool, which allows you to export the contents of your list into easily transferable, formats, such as Microsoft Excel files.
An import tool, which allows you to easily import media records into a project list from MicroSoft Excel files, for example.