Special Features
¨ Split Screen Scans permit duplicate checking and permit data synchronization between projects.
¨ Bacon's Data can be directly imported and auto-coded.
¨ Drag-n-Drop individual entries and groups of entries from the Main Media Database to projects lists and between project lists.
¨ Help exists both in in-contact balloons and as too-tips.
¨ Shortcuts exist as full keyboard and menu.
¨ Graphics may be added to mail-merge and fax outputs. Photo-quality images may be resized and repositioned on the outputs as well.
¨ MS word integration
¨ Cut and Paste throughout the data system or with any other Win95/NT software.
¨ Context sensitive toolbar
¨ Multiple tasking on more than one project or record at a time.
¨ Resize any form, column, row or record at will.
THE MAIN MEDIA DATA
When you open up the Publicity Assistant program you are looking at the Main Media Database. The Main Media Data of Publicity Assistant 2000 is used to store information about all of your media contacts. You will notice a toolbar that contains buttons for frequently used functions. The toolbar is context sensitive—as you change the area of Publicity Assistant; the functionality of the toolbar automatically changes with you.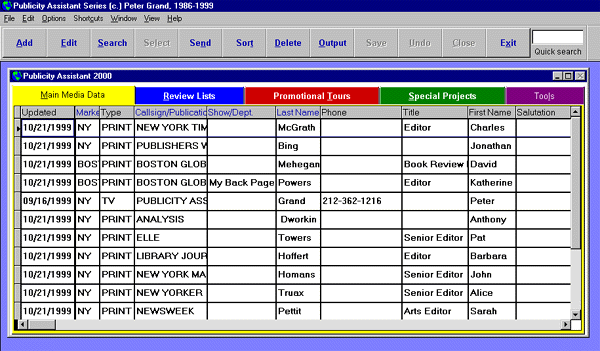 From the Main Media Data window, you can easily add, delete, and edit any media contact. And, one of the reasons why Publicity Assistant 2000 is the most versatile and effective database system is that you don't have to "excavate" your database to find the one record you need. Finding a media contact is as simple as typing the contact's name.
The Main Media Data stores detailed information about all of your media contacts in individual contact records. The contact record stores standard information such as names addresses and phone numbers as well as more detailed information such as affiliates, websites, notes and codes. You can use your Main Media Data directly to create mailing labels, reports and mailmerge letters as well as send e-mails and faxes, and connect to the contact's website. All other areas of Publicity Assistant 2000 use this information to assist you in your publicity efforts.