Printing Your Itineraries
Once you have entered events into your Promotional Tour, you may print out a summary of one or all of those bookings. To do this, open your Promotional Tour project. Select the Itinerary tab. On the left side of the screen, you will see a list of dates for which you have bookings or travel days. To print out or view the bookings from a single day, drag that date onto the Publicity Assistant desktop (the light blue background screen). To print or view all bookings for a given Promotional Tour, drag any date onto the Publicity Assistant desktop. A schedule summarizing the day's events will appear. You can now cycle between dates using the Next and Previous buttons in the toolbar. Before you print your itinerary, you may modify it in a number of ways. The diagram below outlines which areas of the itinerary may be modified: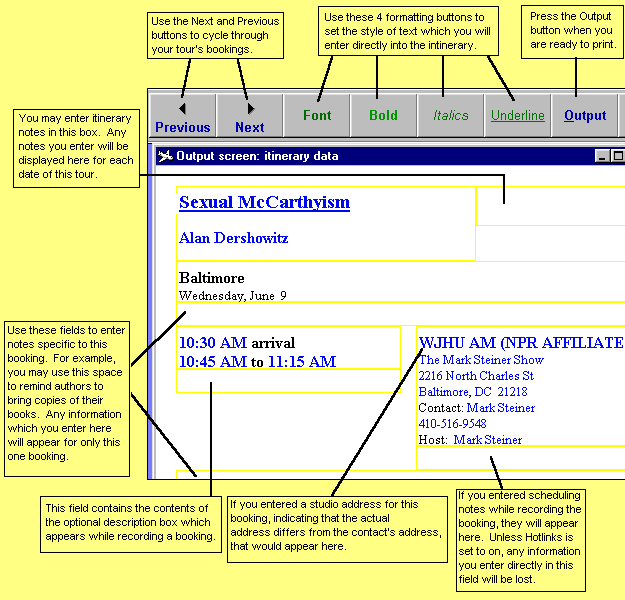 Notice that some information may be entered directly into the form, while other information was entered during the booking process. For example, the area below the call sign will display a studio address if you entered it during the booking process. The same is true for the Description field, which appears directly below the booking time. You may edit the booking information at any time directly on the schedule. To do this see, Editing your Itinerary. Printing Your Itinerary After making your modifications, you may print the itinerary by pressing the Output button on the toolbar. You will notice that the toolbar will change, providing you with a number of printing options:
Print – Prints your itinerary directly to your printer. You will be prompted to print the currently viewed date ("This City/ Day Only"), this day forward ("The Rest"), or all dates ("All"). You are also given the option for "the last date to include", whether or not to include page breaks and manual page numbering. (see figure below)
Word – Sends your itinerary to Microsoft Word, keeping the formatting you see in the itinerary window (as in the diagram above). This approach allows you to alter or modify your itinerary using the editing features of Word. Note, however, that any changes you make to your document in Word will not be saved to the original itinerary. This process may take a few moments, as your system must open a copy of Microsoft Word, and format the document accordingly. When you select this option, you will be prompted to choose which days to include, and whether or not to include page breaks and headers. (see figure below)
Fax, email – If your system is equipped with a fax or e-mail hookup, you may send the itinerary directly to your fax outbox, or to your e-mail system.
To cancel the printing process, press ESCape. You will be returned to your itinerary. For more information, see: Adding contacts to Promotional Tours Entering and Modifying Bookings Editing your Itinerary Timed Notes