Reports & Features
¨ Media Booking Fields include date, time and location of bookings, and track itineraries in real time for the individual project and cumulatively for all current projects. There are also fields for run date/air date and approval fields to enable output to web site or various reports.
¨ Call Sheets print alphabetically, market-by-market and within markets sort by type of media then alphabetically by company name, show name, last name and first name.
¨ Confirmation letters print directly from itinerary entries.
¨ Schedules are automatically formatted by entering the date and time in scheduling field.
¨ Schedules can be fully annotated and edited and sort chronologically.
¨ Studio Addresses can be easily inserted into the schedule.
¨ Satellite/Drive Time feature logs city, dates, and times of bookings.
Creating an Itinerary
Once you've made a booking, creating a schedule is easy. You simple open the contact record and type in the date and time. Publicity Assistant 2000 then places this booking information into a schedule. This information also becomes part of the individual project report, the departmental report and can be added to your company's intranet and public website.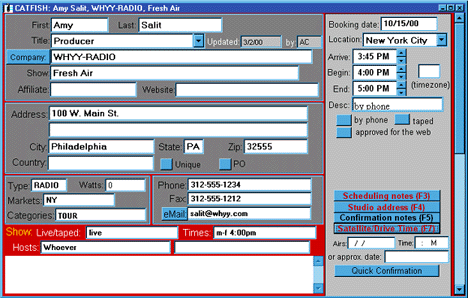 The itinerary below was created by typing in the date and time into the scheduling fields of the contact record. The booking information is placed on the page according to the date and time of the booking. Once you have inserted your booking information, flight, hotel and escort information can be added to the schedule as well as any other information that might be pertinent.