Generating Mail Merge Letters
Mail merge letters are used to automatically send a copy of a letter to multiple contacts. Each letter will be personalized with the contact's name and address. You create one letter and merge the contact information to that letter creating a personalized letters. To generate a mail merge letter in Publicity Assistant 2000, follow these steps:
Select the project you are working on by clicking on it once in the main window. Press the Output button on the toolbar. The Output Options window will appear.
Click on one of the mail merge options. A list of your mail merge (or confirmation letter) options will appear. The most useful ones are Mail merge for creating a mailing from Review Lists, and Confirmation Letters for generating confirmation letters from Promotional Tours.
Select the type of mail merge (or confirmation) letter you wish to create. Depending on how your organization was set up, you will have different options. Select one of the pre-formatted options available to you by double clicking on it.
A split screen will appear with Microsoft Word on the left, and a Publicity Assistant 2000 field list on the right. You may use the arrow keys located in the Publicity Assistant Mail Merge window to cycle through the letters. Notice that details about the contacts change as you move between letters.
Before printing a letter, you may manually alter the letter. Keep in mind, however, that as soon as you alter the first letter these changes will appear in all your mail merge letters. You may wish to individualize each letter, to do this, select the "doc" tab located in the Publicity Assistant Mail Merge window. (See figure below) This creates one long document, with each letter on a separate page. You may individualize your letters. To print select whether you want to print all, this one only, or the rest and select the "print" tab. Your letters will be printed.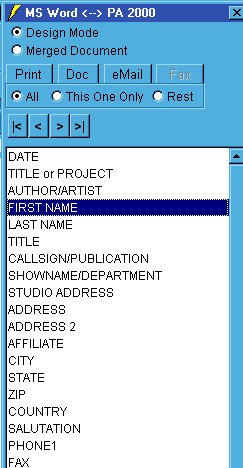 To e-mail your letters, simply select whether you want to e-mail all, this one only, or the rest and select the "e-mail" tab. You will notice, in red, the e-mail addresses scrolling by. When PA2000 is finished e-mailing you will receive a tally of how many e-mails have been sent. A copy of the sent e-mails will also be place in your sent mailbox of your native e-mail system. You may also create additional confirmation letters, as well as alter your existing mail merge letters. See Designing Mail Merge Documents for details. For more information, see also: Sharing Mail Merge Letters Quick Confirmation Letters