Updating Publicity Assistant 2000 via the Web
Clients you can now update your Publicity Assistant 2000 system directly from the web. That means that all the new features listed to the left are available to you in minutes. Simply select "update" under the help pulldown menu.

You will be connected to the Publicity Assistant website which download to your system the latest update.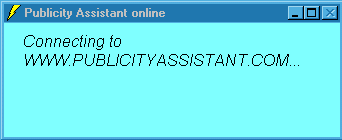 If you do not see "update" as an option under the help pulldown menu, please contact us.