Importing Data into a Project List
Publicity Assistant 2000 has the ability to import data. You can import data into Publicity Assistant 2000 through a project by using one of these formats: Excel Spreadsheet, Comma Separated Values (CSV), Tab Delimited Text (TXT), or Database Files (DBF). When using one of these formats the first row must be the column header. For example, the first row will read: first name, last name, title, etc. This will make it easy to match the data fields in Publicity Assistant 2000.
To import data into Publicity Assistant 2000 through project lists, first select the list you wish to use either by adding a new project list or opening an existing project list. Select the tools tab, then select the import button. A browse window will open asking you to choose a file to import. Select the file. The data import window will open prompting you to "use the tabs on the far left to drag your data to match the PA data fields on the right (see figure below)." Drag the tabs on the left up or down to match Publicity Assistant's fields on the right. When you are finished, select import. Publicity Assistant will import the new set of contacts placing the data in the appropriate fields.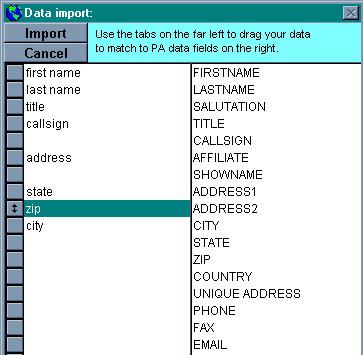 Once you have imported the data into the list, you can add category codes to all the new contacts by using the "Adding Category Codes to Multiple Contacts" feature, and you can send these new records into the main data base by using the "Reverse Send."
For more information on how you can have this or any new feature as part of your Publicity Assistant 2000 system, contact us.