Bacon's Online: Intelligent Import
Publicity Assistant helps you to get the most out of Bacon's Online Mediasource. Importing from Bacon's is now much easier than ever before. You don't even have to match up fields from Bacon's with those in PA. PA can make sense your Bacon's import files, automatically placing data in the correct fields, adding appropriate codes and make using pitching and other free-form notes of any length.
Publicity Assistant features an intelligent "one-click" import program that will analyze and import data downloaded from Bacon's MediaSource and a new help guide so that you can get the most out of PA's Bacon's data import feature.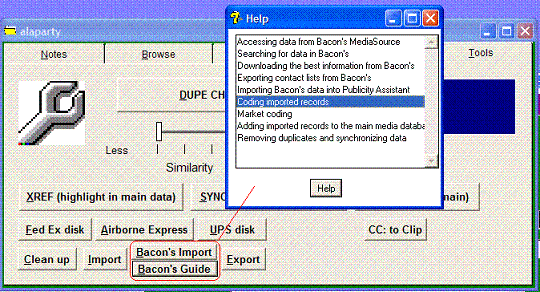 PA can now figure out the type of media (tv, radio, print, online or other) and whether or not the record is a tv or radio show. PA will use the salutation, firstname, middle name, and last name to derive the contact name fields as well as the PA "salutation" field for mailmerges. You're may want to import the beat/title, phone, fax, email, home page (website), circulation, and/or air-time fields. PA will automatically put this information into the appropriate fields. PA will also use any combination of the profile, organization type, pitching tips, publicity materials used, lead times, frequency, format, topic. coverage, and organizational profile to create "notes" of any length.
For more information on how you can have this or any new feature as part of your Publicity Assistant 2000 system, contact us.