Advancements in Mail Merge
The mail merge feature of Publicity Assistant 2000 which links the Publicity Assistant data with MicroSoft Word is now more advanced and much easier to use. As the figure below illustrates, functionality has been added to the Publicity Assistant Mail Merge window. You may now e-mail and blast e-mail mail merge letters directly from the mail merge window. By using the additional buttons on the PA2000 mail merge window, you may now page through your mail merge letters, convert the letters from many letters to one long letter (which facilitates printing and editing), and print. You may also choose which letters to print by selecting the "All", "This one Only" or "Rest" buttons.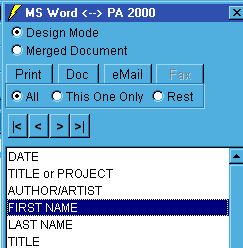 If your native e-mail is MS-Outlook, you may use that format when sending e-mails through the Publicity Assistant mail merge feature. To use this feature go to the tools page of Publicity Assistant 2000 and select "formatted MS-Outlook emailmerge" under user settings.
For more information on how you can have this or any new feature as part of your Publicity Assistant 2000 system, contact us.