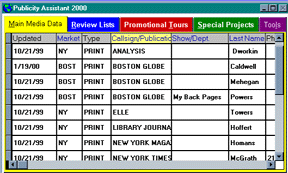 Publicity Assistant is the publishing industry standard for publicity. It is also used by publicity shops of all kinds to maintain complex real world databases of media contacts, and power tools to manage the flow of personalized communication with individuals in the media and online communities.
Publicity Assistant efficiently integrates with e-mail software, word-processors, browsers, spreadsheets, backend databases and media databases like Bacons, and with add-in systems that link with shipping software.
Publicity Assistant 2000 offers the technology and services that enable companies to share publicity information via networks and the world wide web.
Contact us to see how leading companies succeeded with Publicity Assistant 2000 products.